Mast Cell Tumor - Getting it right! By Shelley Newman DVM
There is no correlate to this common canine cutaneous tumor type in humans. And over the years of my research, many different angles have been taken to try to understand, treat and prognosticate it better.
Breed Predisposition
Initially, certain breeds seemed predisposed; Boxer, Boston Terrier, Weimaraner, and that is still the case, suggesting a familial or genetic susceptibility.
Genetics
Later, genetic mutations in the c-kit gene were determined to be involved in a proportion of the cases.
Detection of c-kit Mutations in Canine Mast Cell Tumors using Fluorescent Polyacrylamide Gel Electrophoresis (sagepub.com)
The c-kit receptor was then used as a molecular target to confirm the origin of round cell tumors, as being of mast cell origin and later as a prognostic indicator.
Correlation of histologic grading of canine mast cell tumors with Ki67/PCNA/AgNOR/c‐Kit scores: 38 cases (2002–2003) - Bergman - 2004 - Veterinary and Comparative Oncology - Wiley Online Library
Surgical excision
The vast majority of diagnoses and treatment were based on surgical excision. Since our research almost 20 years ago, the accepted surgical excision size is 3 cm lateral to the grossly visible mass and one facial plane deep has continued to be the gold standard.
Evaluation of surgical margins required for complete excision of cutaneous mast cell tumors in dogs - PubMed (nih.gov)
In some rare instances, incompletely resected tumors, failed to come back and completely resected relatively quiescent variants returned with a vengeance. This type of behavior makes pathologists concerned that they not read the microscopic signals inappropriately.
Molecular techniques and antibody-targeted stains have been explored to try to get a better handle on behavior of these tumors, in the case the naked eye of the pathologist is not good enough to distinguish these.
Subcutaneous variants
Lastly, not all mast cell tumors are cutaneous, they can occur in dogs in the gastrointestinal tract and in the spleen of cats. But there were also variants deeper in the skin of dogs that were not completely characterized in the original grading system produced by my colleague at the Animal Medical Center, Dr. Amiya Patnaik. Canine cutaneous mast cell tumor: morphologic grading and survival time in 83 dogs - PubMed (nih.gov)
Subsequently, I characterized the largest collection of subcutaneous mast cell tumors, that suggested that even based on location of origin within the skin, the prognosis was affected.
Canine Subcutaneous Mast Cell Tumor: Characterization and Prognostic Indices - J. J. Thompson, D. L. Pearl, J. A. Yager, S. J. Best, B. L. Coomber, R. A. Foster, 2011 (sagepub.com)
So, does this all help to explain the elusive nature and multi-factorial aspects of canine cutaneous mast cell tumor?
"Subcutaneous canine mast cell tumor-diagnosis and prognosis" by Shelley Newman, L Mrkonjich et al. (tennessee.edu)
www.newmanspecialtyvetpath.com
Prognosis of Canine Cutaneous Mast Cell Tumors | College of Veterinary Medicine at MSU
Flowcharts to Support Therapeutic Decision-Making Based on Prognostic Parameters for Canine Cutaneous Mast Cell Tumors | College of Veterinary Medicine at MSU
Blog written by Shelley Newman, Veterinary Pathologist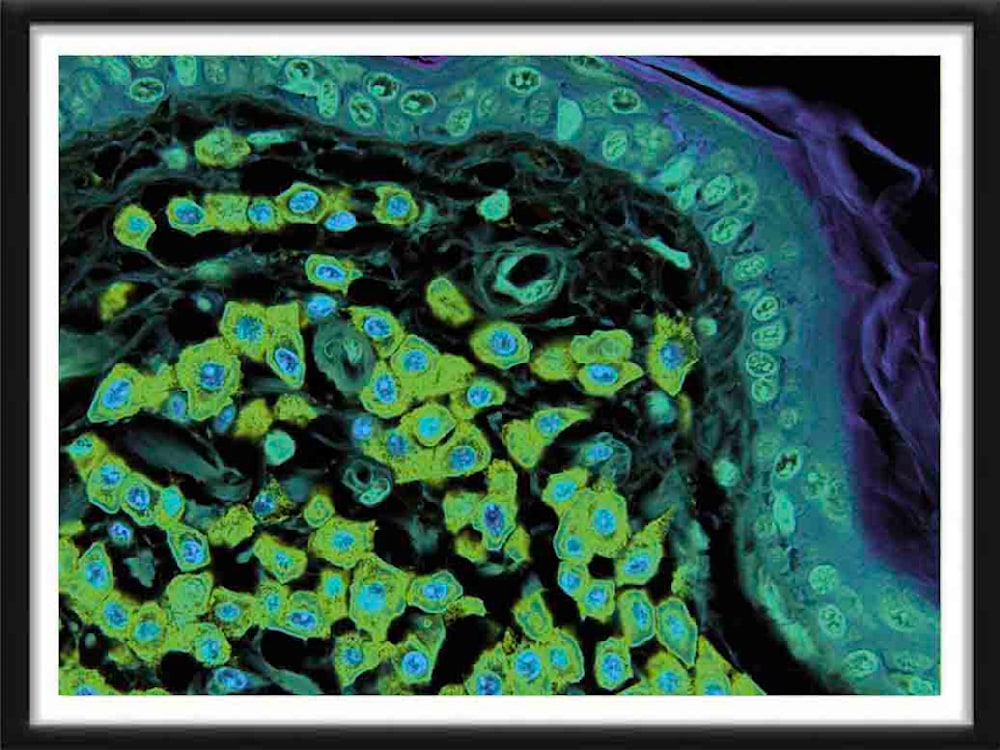 ABSTRACT IMAGE OF A MAST CELL TUMOR